( Make free website with free domain & free hosting )
Hi if you are really want to make free website then this is perfect article for you.
In this tutorial i will show how to make  free website with WordPress from scratch, i will do my best to show you the step by step process to creating a free WordPress website
[ Note:- free domain name and free hosting not as good as premium hosting & domain, meaning it has limited feature though you can use them for testing purposes only moreover i do not recomment free domain and free hosting for serious blogging or website owner. ]
Alright Let's get the ball rolling and Make free website

Apparently we need a domain name and hosting.
brief explanation
Q. what is domain name ?
A. domain name mean your website url..
Q. what is hosting ?
A. place on internet where your website lives, it just like sweet home.
Now let me show you how to make free WordPress website.
open up freenom.com  and create your free account.
click on sing in as showing in picture below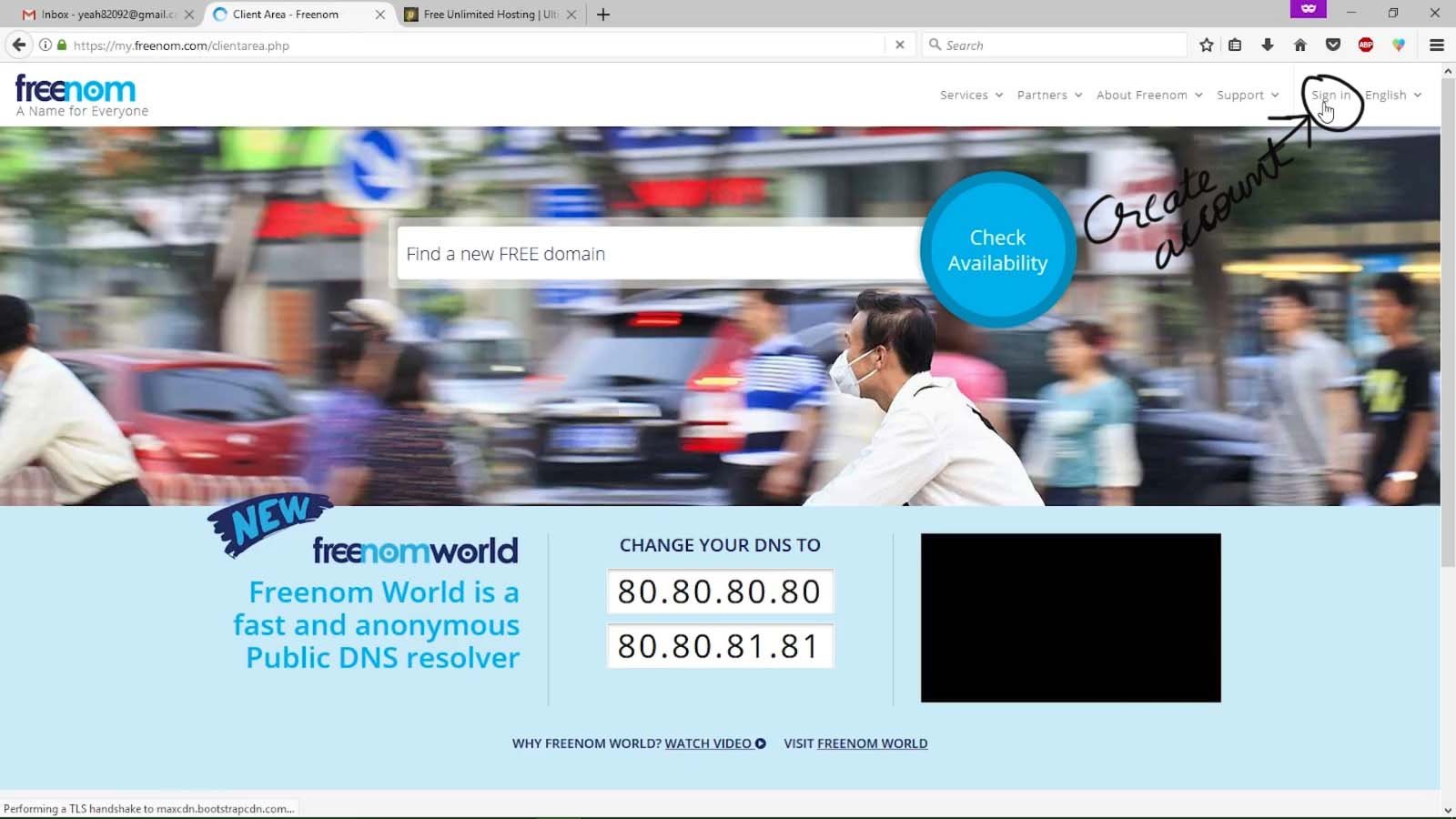 You can use social network icon for sign up or sign in.
Now click on services and then Register a new domain
Now type your domain and click on check availability
Next click on Get it now! and then click on checkout
Now select 12 month @ free, like in picture below
Now click on Use DNS and then click on use your own DNS and leave this as it is for now, do not close this tab yet we will come back here and we will have to add Nameserver in this page.

Its time to open ultimatefreehost
Here enter your info and remember it, although you can type any default url: in first box because it is subdomain and we don't need that we will add domain name later on in this tutorial so for now type anything in default url: finally click on Register.
After clicking on Register you will get verification mail at your email id. ( If you have not received the email after 10 minutes then click on green and blue text to resend a email as shown in picture)
Check your email inbox, this email may show under the spam box so make sure to check spam out. now click on activation link to activate your hosting account
Now your Free hosting account under the activation process just wait for few seconds.
Congratulation! now you have free hosting account but We haven't done yet. Now let's open cpanel by click on link as you can see in picture below
You will get your Hosting account information at your email id as well. like your password, username etc.
Now open your cpanel url and type your username and password
In cpanel go to Domain and click on addon Domain
Now let's jut copy nameserver here and past it on the freenom website where we left previously. look at the pictures below.
[ Do not close this tab yet we will come back here and we will add domain here ]      (make free website)

This is nameserver of ultimatefreehost
ns1.ultimatefreehost.in
ns2.ultimatefreehost.in
It may ask you again for sign in, use social icon if social icons do not work for you then try to sign in via email.
After sign in it will take you to billing information page, enter it if want to otherwise check the term & condition box then and click on complete order.
Let's go back to this page and type your domain and click on Add Domain
 ( this page can be found in cpanel under the Domain section click on addon Domain )
After clicking on Add Domain you will see this page says- congratulations you have now added a new domain to your control panel! Now go to cpanel home by clicking on home button.

Now go under software and click on Softaculous Apps Installer.
In the next page install  your favorite WordPress.
In this page enter your real detail like website title, website description, your email id, WordPress login and password [ Note: delete wp form directroy ]
Scroll down and click on install.
That is it now you can get to your WordPress dashboard by going to this link as you can see in picture below.
That link will take you to login page. here you have to type your username and password and click on login.

[ Your link would be like this: yourdomain.ml/wp-admin ]
[ type /wp-admin in the end of your domain and that will open login page. ]
Congratulation guys! now you have created your free WordPress website.   (make free website)

If you prefer to watch video tutorial rather then reading articles you can check out this Post
I hope you guys like this please subscribe our Newsletter for more articles like this.